How to Level-Up your social media presence during virtual events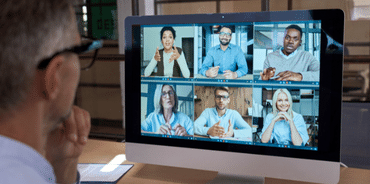 Over the past year, event organisers have had to bring their educational goals to life while adapting to the challenges associated with shifting in-person events to virtual platforms.
While the shift to virtual has allowed for a broadened reach of essential findings across various fields, it is challenging to create the same atmosphere and attendee interaction on social media compared to onsite events.
The importance of uplifting social engagement for virtual events
In-person events create an exciting real-time buzz that encourages attendees to capture these live moments on their social media platforms, while virtual events often intermingle with attendees' day to day activities. With virtual and hybrid events becoming the norm, it is crucial to focus on increasing social engagement for the attendees streaming sessions from home.
This can be achieved by:
1. Creating more interactive and interesting content unique to each social platform to keep audiences engaged both during and between sessions.
2. Convincing the audience through content to interact more with one another and exchange their findings and experiences with fellow attendees.
3. Immersing your audience in key discoveries uncovered during the event, thus creating lasting impressions and encouraging late registrations.
4. Continuous and optimal monitoring and interaction with virtual attendees.
How does Kabloom keep the buzz alive for virtual events?
To keep audience engagement, Kabloom has launched a number of innovative content strategies. With this change in how we approach event marketing, our unique take on virtual events has delivered results of up to a 45% increase in real-time hashtag engagement and interaction during the congress, with hashtag users doubling compared to the previous virtual edition.
This strategy bolstered the audience reach with up to +1 million hashtag and 3 million Facebook impressions, allowing:
• Increased brand visibility during the congress
• Exponential growth in attendee interaction
• Late registration conversions Remember, marketing is not a cost, but an investment in growth.
THE BOTTOM LINE
Your real-time social media presence is vital in creating meaningful interactions with your key audiences and provides an unmissable opportunity to build brand trust, loyalty and audience collaboration. Kabloom is ready to help your event take off with tried-and-tested strategies that are guaranteed to create the same in-person buzz during your virtual event!