When innovation meets digital reach — Boosting symposium attendance and booth interest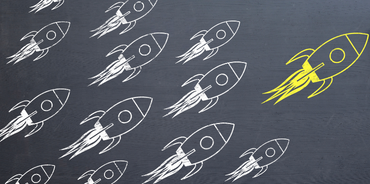 Thanks to Kabloom's sponsor boost packages, exhibitors' reliance on often vague ROI and insights based on business cards and badges is a problem of the past.  Over the last few years Kabloom has partnered with both the event and its sponsors to provide hard data that expands audiences and achieves measurable results.  
Sponsors and partners should see tangible outcomes
In a case study where data was collected over two years, a sponsor increased its ranking from the 4th-most attended symposium in 2020 to the 2nd-most attended in 2021.  This resulted in an 220% increase of audience engagement year-on-year when implementing the digital marketing boost package. 
At a recent online event where the package had not been previously applied, the results showed that those sponsors who actively engaged in several digital boost activities ranked in the top 3 attended symposia.  By taking action, they achieved maximum digital exposure and 100 000s of views plus quantifiable attendance and engagement.
In another example, a particularly popular symposia was viewed 10x more AFTER the event had taken place thanks to a post event campaign and reminders.  
Capturing interest and standing out
We know that there are a variety of sessions competing for a delegate's attention. Through long term data insights, our in-depth knowledge of various fields and assessing attendee trends from previous editions of an event, we are able to optimise audience targeting and messaging.   
Our tailor-made campaigns focus on the sponsor's goals such as creating awareness to a wide targeted audience as well as increasing booth visits and ymposia attendance.  Furthermore, this exposure takes place across various online channels before, during, and after events providing longevity and an increase in brand awareness. 
The benefits of working with our team's digital marketing package
Instantly reach a target audience that was previously inaccesible
Pre-congress engagement set sponsors apart and keep the symposia top of mind
Expert guidance from the Kabloom team to ensure success
Accurate exposure and measurement of real ROI
Leads generation for current follow-up as well as expanding the audience for future activities
Boost engagement before, during, and after the event for lasting results
 THE BOTTOM LINE 
In the age of data, your sponsor activities should be supported by digital exposure and measurable ROI to ensure long term actionable growth.