Capitalizing on Digital Marketing to Boost Non-dues Revenue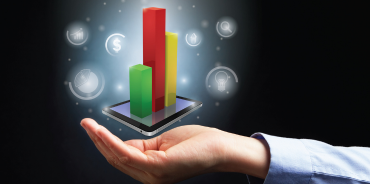 The ever-evolving landscape of digital technology has made its mark on virtually every sector, and professional associations are no exception. As outlined in the 2021 Association Trends Study by Nimble AMS, associations are facing the challenging reality that membership dues aren't always sufficient to support their initiatives. The need to diversify revenue streams is ever-present, and the digital realm offers a wealth of opportunities for associations to increase their non-dues revenue.
Digital Marketing: An Unexplored Goldmine
In today's digitally-saturated world, digital marketing strategies play a transformative role in business growth. They offer an expanded reach, increase brand visibility, and provide cost-effective ways to engage with target audiences. According to Hubspot's Not Another State of Marketing Report, more than 60% of marketers cited generating traffic and leads as their top challenge. Digital marketing strategies, when implemented correctly, can serve as the solution to this problem. In the context of associations, this means promoting your programs, events, and services to a broader audience, subsequently generating more non-dues revenue. As the 2021 Association Trends Study suggests, associations employing targeted digital marketing have seen significant revenue growth from non-dues sources.
The Digital Transformation Imperative
A crucial insight from the 2021 Association Trends Study is the emphasis on digital transformation in the post-COVID world. In an era where technology is rapidly evolving, maintaining a strong online presence is no longer an option; it's a necessity. This observation echoes McKinsey's report highlighting that the COVID-19 pandemic has accelerated the shift towards a more digital world and triggered changes in online shopping behaviors that are likely to have lasting effects.
The Wider Spectrum of Digital Marketing
However, digital marketing is not solely about having a website or being on social media. It involves employing strategic initiatives to reach your target audience effectively. Key elements of a successful digital marketing strategy include Search Engine Optimization (SEO), content marketing, social media engagement, email marketing, and pay-per-click (PPC) advertising.
 – Search Engine Optimization (SEO) is the practice of optimizing your website's content and structure to improve its visibility in search engine result pages (SERPs). As Google's SEO starter guide states, creating a SEO plan can help associations appear at the top of search results, making it easier for potential members to find you.
 – Content Marketing is all about creating and sharing valuable content that can help you attract and retain a clearly defined audience. A Content Marketing Institute report showed that 69% of the most successful companies have a documented content marketing strategy.
 – Social Media Engagement isn't just about posting updates on social media platforms. It involves interacting with your audience, responding to their queries, and cultivating a community. Sprout Social suggests that increased engagement leads to greater loyalty and higher conversion rates.
 – Email Marketing $remains a highly effective tool for establishing and maintaining relationships with your members. According to Litmus, the return on investment for email marketing can be as high as 42:1.
 – Pay-Per-Click (PPC) Advertising allows you to reach the right people at the right time with the right ads. As reported by Google, businesses generally make an average of $2 in revenue for every $1 they spend on Google Ads.
In the next blog post, we'll explore how associations can implement these strategies to increase non-dues revenue. In the meantime, it's essential for associations to understand that digital marketing isn't a one-size-fits-all solution. It's a multifaceted approach that requires ongoing effort, constant evaluation, and continuous adaptation.
A thought-leadership piece written by the CEO of Kabloom, Richard Torianni.