Investment versus Insurance? Kabloom's digital marketing campaign covers its own cost more than four times over
The European Paediatric Rheumatology Congress (PReS 2021) took place virtually in 2021 due to the continued COVID-19 pandemic. Building on the success of the previous virtual edition in 2020 and past experiences of other online-only events, Kabloom implemented a holistic digital marketing strategy focused on driving abstract submissions and registrations. 
By activating various digital marketing channels targeted at niche personas developed through long-term engagement with the PReS audience, the digital marketing efforts contributed to 49% of the overall 2021 congress registrations. This conversion clearly highlights the impact and importance of specialised and targeted digital advertising for events trying to stand out in a crowded online space.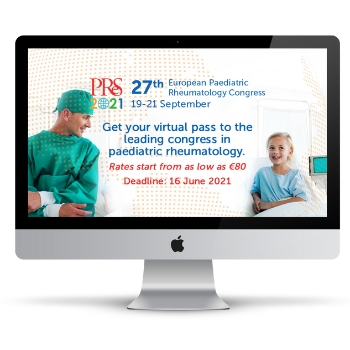 contribution to
registrations
digital ads seen by
target audience
leads to congress
website from ads
average e-mailer
campaign open rate
Organiser
The Paediatric Rheumatology European Society (PReS 2021)
Target Audience
Professionals in the field of paediatric rheumatology
Objective
Promoting awareness and driving abstracts and registrations for virtual event
Services
Digital marketing campaign
Social media advertising
Ad design and optimisation
E-mailer campaign
To promote and drive registrations and abstract submissions for the congress, Kabloom deployed a holistic digital marketing campaign over the course of eight months. 
After producing a digital marketing strategy based on key learnings from previous editions and other events in related fields, the Kabloom marketing team:
Targeted a relevant global audience across online platforms and channels.

Boosted 

awareness

 through digital ads across search and social media.

Rolled out an e-mailer campaign promoting the congress to encourage website traffic and database growth.
The digital marketing campaign was directly responsible for
nearly half of the registrations to the congress
.
In this case, digital marketing covered its own cost more than four times over
.