Congress attracts most international audience to date thanks to targeted global advertising campaign
Kabloom's 2022 digital marketing registration conversions for one of our long-term clients, EAHAD, increased by 11% compared to 2021, despite clear signs of industry-wide fatigue across virtual-only events.
Thanks to a greater emphasis on geo-location targeting outside of Europe, EAHAD 2022 Virtual saw an increase of attendees from locations outside of its usual European audience. Two out of the top three attending countries were from the Americas and as an example, attendees from Brazil increased by 57% when compared to the 2021 Virtual edition.
The digital marketing campaign contributed to 84% of total abstract submissions and 38% of the overall paid registrations to the congress. Reaching a global audience through targeted digital marketing enabled growth in a time when many events struggled to reach new audiences, or even maintain existing ones.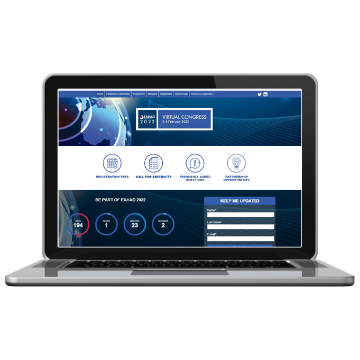 Contribution to abstract submissions
Contribution to overall registrations
New potential leads to the website
Ads seen by target audience
Organiser
European Association for Haemophilia and Allied Disorders (EAHAD)
Target audience
Haematology and bleeding disorders specialists
Objective
Create awareness and expand existing delegate pool globally for congress attendance
Services provided
Digital strategy
Website creation and optimisation
E-mailer campaign
Social media management
Digital advertising and remarketing
Building on previous key learnings from various virtual event marketing campaigns, the strategy aimed to target more attendees who might not normally attend the event due to location or financial restrictions.
The strategy was implemented by:
Boosting awareness of the congress to encourage abstract submissions and registrations from potential audience members outside of Europe based on personas, due to the virtual nature of the event.

Creating a 360° digital marketing approach through long-term awareness with additional focus on social media, helping to grow their LinkedIn following by 45.7% and Twitter following by 20%.

Deploying a live and post-congress marketing campaign, motivating potential audience members to continue registering even during and after the event in order to access the recorded sessions – thereby creating opportunity for additional registration income for our client.

Thanks to this targeted global advertising campaign and overall digital marketing efforts, EAHAD 2022 Virtual attracted its most international audience to date with 77 countries represented.